To Those Who Killed Me
Crime Fiction written by J.T. Siemens
Nominated: Arthur Ellis Unhanged Award
Published by NeWest Press April 2022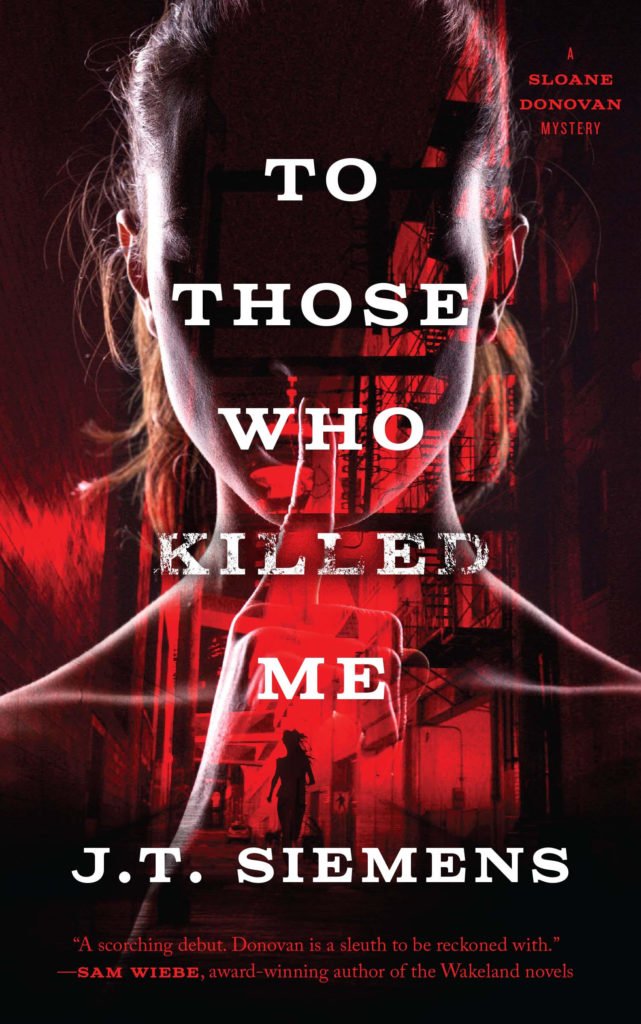 Disgraced ex-cop Sloane Donovan has relied on her job as a fitness instructor to keep her mental illness and PTSD in check—until she finds a close friend dead, apparently by her own hand. Obsessive demons triggered and doubtful of the official narrative, she teams up with Wayne Capson, a PI willing to bend the law, to find out who really killed her friend. The search leads Sloane from Vancouver's wealthiest enclaves to the street's darkest corners, questioning millionaires, tennis instructors, sex workers, former police colleagues—anyone who might provide answers.

Recalling the works of Jo Nesbø and Gillian Flynn, J.T. Siemens's To Those Who Killed Me is a debut that provides a heavy dose of hardboiled suspense and introduces a fiery new heroine in crime fiction.
*
J.T. Siemens grew up in Vernon, BC, and moved to Vancouver to pursue a career as a personal trainer. A longstanding love of books and movies led him to study screenwriting and creative writing, and he has been published in Mystery Weekly, Down in the Dirt, CC&D, and Vancouver Magazine.

After a murder occurred outside his workplace, he was inspired to write a novel, To Those Who Killed Me, which was nominated for the Arthur Ellis Unhanged Award, and to be published by NeWest Press this coming April 2022. The novel introduces the character of Sloane Donovan and is the first in a series about a bipolar ex-cop turned PI. He recently completed the second Sloane Donovan novel, The Call of the Void. He lives in Vancouver's West End with his girlfriend and two cats.
*
CONTACT
jtsiemens6@gmail.com
Instagram * Facebook * Twitter
*
MEDIA
"Why TO THOSE WHO KILLED ME is so rough and gritty it comes with a warning." Interview with Crime Writers Canada.

"In many of the mysteries I've read over recent years, the majority of male authors choose to write about male protagonists, but Jeremy hasn't. So, the question is why did you choose a female protagonist?" Interview with Debra Purdy Kong.
"Were there challenges telling the story from the point of view of a female lead character?" Interview with Dietrich Kalteis.

"As Sloane looks into her friend's death she explores the seamier sides of Vancouver, even those hiding behind a golden veneer. If you were investigating would you rather stick to the mean streets or slip into those wealthy enclaves? Which do you think is sleazier?" Interview with Cozy Up With Kathy.
"Sloane is a worthy addition to the hard boiled detectives who work the streets of Vancouver's Downtown Eastside." An email exchange with Bill Selnes, Mysteries and More from Saskatchewan.
"The book is at its best exploring the tumultuous Sloane. Constantly on the edge of dysfunction, nightmares of her family past lurking in her "pinballing" mind, she is never at rest but she is resolute and resourceful." Bill Selnes review, Mysteries and More from Saskatchewan.
"First brushes with mortality and what authors can learn from physical trainers." Interview with the publisher, NeWest Press.
"This gritty crime tale, which snakes through Vancouver's squalid backstreets, plunges the fearless, at times reckless heroine into a surfeit of horrific encounters with addicts and abusers, rapists, and killers. This isn't for the faint-hearted." Publishers Weekly's review.